Inquire Now!
for A Fast Approval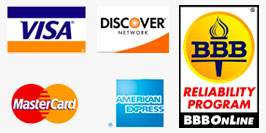 High Risk Merchant Accounts
Business America specializes in High Risk Merchant Account acquisition, striving for the best possible service at the lowest possible cost. High Risk Merchants have specialized needs and can often obtain lower costs and more efficient processing capabilities by utilizing a merchant service provider that focuses on High Risk Merchant Accounts.
What makes a Merchant Account High Risk?
Certain business types are considered by the Visa MasterCard Associations to be "High Risk" for credit card processing. Sometimes these business types are referred to as being "restricted" by Visa / MasterCard. This means that acquiring banks are at a higher risk of financial loss when they underwrite these business types. The bank's primary risk comes in the form of chargbacks. If a merchant generates more chargebacks than they are able to pay, then the bank is financially responsible. Also, the acquiring bank can be fined or otherwise sanctioned by Visa / MC for excessive chargeback levels. This potential chargeback liability is the main factor in determining whether or not a particular business type falls into the High Risk Merchant Account category. In addition to business type, other factors that contribute to potential chargeback liability are susceptibility to fraud, risk of insolvency, ticket size, future delivery, recurring billing, installment payments, and previous processing history (high chargebacks, TMF / MATCH Listing). Finally, sales volume in itself can be considered a risk factor. In essence because every dollar in sales is potentially a dollar in chargebacks. Fast growing sales volume can require a High Risk Merchant Account.
Business America looks beyond a simple business type classification to work with each merchant on an individual basis to identify the underlying causes of chargebacks and produce chargeback mitigation strategies to lower the risk of chargeback and reduce processing costs.
What are the Benefits and Features of a Business America High Risk Merchant Account?
A direct merchant account with unique descriptor.
Lowest possible discount rates, transaction fees, and reserves
Unlimited sales volume
Virtual terminal API interface payment gateway
Multi-currency options.
Settlement twice a week to your existing business bank account.
Recurring Billing.
Transaction Testing Environment provided.
Professional support and service.
AVS, CVV2, 3Dsecure, Geo-IP Match
Ongoing Risk Management Services to avoid and reduce chargebacks and fraud